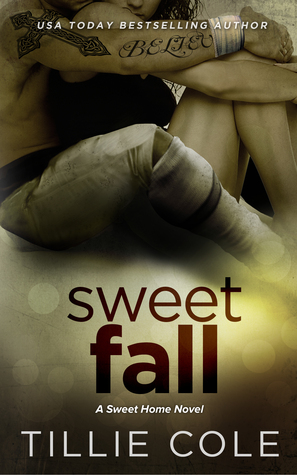 Synopsis
From the USA Today Best Selling Sweet Home Series, comes Sweet Fall; a tale of heartache, beating the odds and finding strength in the most unlikeliest of places.
We all have secrets.
Secrets well buried.
Until we find the one soul who makes the burden of such secrets just that little bit easier to bear.
Lexington "Lexi" Hart is a senior at the University of Alabama. Surrounded by her best friends, her loving family and having fulfilled her life-long dream of making the Crimson Tide cheer squad, everything is going exactly as she always dreamed it would. But beneath her happy exterior, demons lurk, threatening to jeopardize everything Lexi has worked to achieve.
When events in her life become too much to cope with, Lexi finds herself spiraling down into the realm of her biggest fear. Lexi falls hard, victim once again to the only thing that can destroy her and, on the way, finds herself falling straight into the dangerous tattooed arms of a guy from the wrong side of the tracks.
Austin Carillo, starting Wide Receiver for the Alabama Crimson Tide, must get picked in this year's NFL draft. He needs it. His brothers need it. Most importantly, his mother desperately needs it. Brought up in a world where the poor are forgotten, the sick are left to fend for themselves and no hero miraculously appears to pull you out of hell, Austin had no other choice but to make a living on the wrong side of the law—until football offered Austin the break to get his life back on track.
But when a family tragedy drags him back into the clutches of the gang he believed he had left far behind, Austin finds himself falling. Falling back into criminal ways and falling deep into a suffocating darkness. Until a troubled yet kindred spirit stumbles across his path, where Austin quickly finds he is falling for a young woman—a young woman who might just have the power to save him from his worst enemy: himself.
Can two troubled souls find a lasting peace together? Or will they finally succumb to the demons threatening to destroy them?
New Adult/Contemporary Romance novel—contains adult content, sexual situations and mature topics. Suited for ages 17 and up.
*CAN BE READ AS A STAND-ALONE NOVEL*
Review
Five words –
You Must Read Sweet Fall
! This book…this book right here was such an incredible, beautiful story. I just can't even describe how I felt reading this book. I honestly think I was crying from page one for Lexi, and then as the story continued I was crying for both of these characters….so much heartache, so much pain. My heart hurt, my heart broke…..my heart cheered for these to characters to get their HEA. Kudos' to Tillie Cole for being brave and writing this story, and for capturing the breathtaking beauty of Lexi and Austin's love so perfectly. 5 stars.
"She's my broken Pixie, and I'm her piece of trailer trash scum"
Lexi's life if one big façade…she is faking it all. Her smiles are fake, her happiness is fake; she hides her unhappiness behind dark make-up and dyed hair. Even Lexi's friends don't even know the real person she is, Lexi doesn't even know the "real" Lexi anymore. Lexi is struggling with anorexia, and the death of her best friend due to the disease. No one…not her parents, her friends, her doctor, know that Lexi is starting to once again succumb to the "voice". She sees herself as "fat" and "ugly" when she is anything but that to other people.
I'm lost without you. I can't breathe without you. Without you here, all I an do is fall......
Austin is the bad boy, tattooed wide receiver for Crimson Tide's football team. Austin's dream is to make it to the NFL so he can help his family and nothing will stand in his way. Things start to crumble when the Heighter's gang who Austin was lucky enough to break free from (thanks to his brother Axel) starts dealing on campus and the Dean suspects Austin. Soon Austin finds out that his mother is in bad shape, and his brothers are dealing coke on his campus, to get the meds she needs for her illness. This is where Austin and Lexi really meet…..Lexi is in the wrong place at the wrong time, and threatened by Axel and Austin to keep her mouth shut about what she saw. Austin and Lexi continuously run into each other and soon these two find out they have a lot in common and a mutual attraction. A secret relationship begins…they become each others comfort and confident. Can the broken pixie and the boy from the wrong side of the tracks get the HEA they deserve?
"You're always beautiful to me, Pix. Nothing you do will ever change that. Short, tall, fat, thin, blond, brunette...just as long as it's you, as the real you shines through."
Sweet Fall was a fantastically written, powerful book. It brought out so many emotions in me while I read it…hurt, anger, pain, angst, love. This book goes on my Top 10 favorite list from this year. A definite recommendation to add to your book shelves!
I once vowed that I would never fall again. But today I fall willingly.
I will cherish the sweetest, most beautiful fall....
*Reviewed by Brandi
Buy Links
About the Author
Tillie Cole is a Northern girl through and through. She originates from a place called Teesside on that little but awesomely sunny (okay I exaggerate) Isle called Great Britain. She was brought up surrounded by her mother -- a farmer's daughter, her crazy Scottish father, a savagely sarcastic sister and a multitude of rescue animals and horses.
Being a scary blend of Scottish and English, Tillie embraces both cultures; her English heritage through her love of HP sauce and freshly made Yorkshire Puddings, and her Scottish, which is mostly demonstrated by her frighteningly foul-mouthed episodes of pure rage and her much loved dirty jokes.
Having been born and raised as a Teesside Smoggie, Tillie, at age nineteen, moved thirty miles north to the 'Toon', Newcastle-Upon-Tyne, where she attended University and graduated with a Bachelor of Arts honours degree in Religious Studies. She returned two years later to complete a Post-Graduate Certificate in Teaching High School Social Studies. She regards Newcastle to be a home from home and enjoyed the Newcastle Geordie way of life for seven 'proper mint', 'lush' years.
Tillie, from a very young age has been part of the theatre community and loves nothing more than to entertain through the mediums of cheerleading, dance, drama and singing (sometimes in the rain). She can also be found in nightclubs around the world imitating her favourite artists alongside her crazy BFF's - The Teesside Massive - or, sat on the front row at the theatre bopping along to her favourite musical, 'The Rocky Horror Picture Show ', clad in a only a maids outfit, clutching a bag of rice and sporting a vibrant shade of red lipstick.