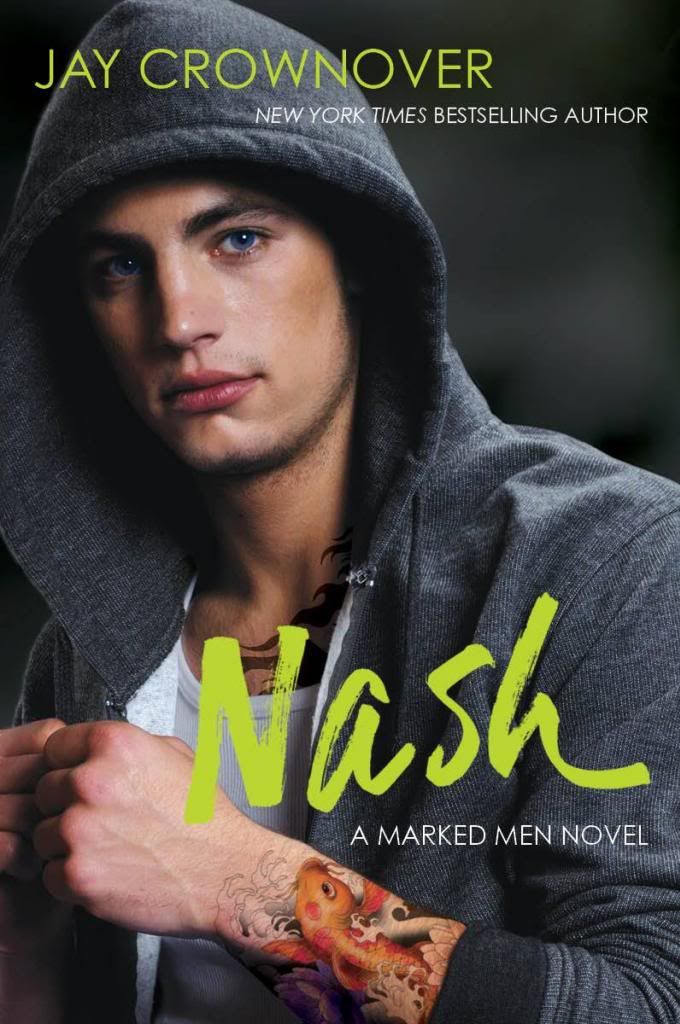 Title: Nash (Marked Men #4)
Author: Jay Crownover
Genre: New Adult/ Coming of Age
Publication Date: April 29, 2014
Publisher: William Morrow Paperbacks, an imprint of HarperCollins
Synopsis
Will their past determine their future?
Saint Ford has worked hard to achieve her childhood dream of becoming of nurse. Focused on her work and devoted to her patients, there's no room for love. She doesn't need a guy making waves in her calm, serene life—especially when he's the unforgettable hottie who nearly destroyed her in high school. Dark, brooding Nash Donovan might not remember her or the terrible pain he caused. But he turned her world upside down . . . and now he's trying to do it again.
Saint has no idea that Nash isn't the cocky player he once was. Uncovering a devastating family secret has rocked his world, and now he's struggling to figure out his future. He can't be distracted by the pretty nurse he seems to meet everywhere. Still, he can't ignore the sparks that fly between them —or how she seems so desperate to get away from him. But the funny, sweet, and drop-dead gorgeous Saint is far too amazing to give up on—especially since she's the only thing in his life that seems to make sense.
When Nash discovers the truth about their past, he realizes he may have lost her heart before he could even fight for it. Now, Saint has to decide: is Nash worth risking herself for all over again?
Add to Goodreads
Purchase Links:
Amazon
|
Barnes and Noble
|
Books A Million
|
Indie Bound
Review
The anticipation waiting for Nash's story was just killing me, and Jay did not disappointment me. It's the way Jay ends each book....she ends it in a way that she sets up the story for the next character in the series to come into the spotlight, and you are left salivating and wanting more immediately! 4 stars!
"Nash Donovan was a beautiful, wicked, and hot flame that burned me when I got too close. He was just the first stop in a journey dotted by disappointment, but somewhere along the way I found my footing. My purpose. I just didn't know that as soon as I did, Nash would manage to turn my world upside down all over again, and only a fool gets burned twice by the same fire."
Poor Nash has just had his world rocked. The man Nash has grown up believing was his uncle, who has supported him and been there for him when no one else has, is in the hospital Ill...very, very Ill. A huge bomb is dropped, his uncle is really his father, a father he long thought abandoned him. This pill is hard to swallow and causes Nash to spiral out of control, even his amazing group of friends can't reach Nash in his downward spiral. There is only one person who can, the ER Nurse Saint, and she is not forgetting his man whore past, or how he hurt her when they were just teenagers. Saint wants nothing to do with Nash, no matter the connection or sparks between them, she does not trust men and lacks confidence. But Nash slowly breaks down her defenses and gets Saint to open up and a relationship develops, yet Saint still holds back. Will Nash wear down all of Saint's resistence and get her to see the true Beauty she is and get her to trust....or will Saint let the past ruin their chance at a future?
"Nash wanted to live a life with no regrets. I wanted to live a life that was fulfilled. We needed each other to accomplish that, and now that we had each other there was no then versus now, there was just this life we had together."

Nash is probably my Favorite guy of this series yet. I do have a hard time picturing him with all his tats and piercings, especially the one on his head but yeah...that book cover helps...he's hot and his emotions...*gah* I just loved him! Saint held my rating back a little because she was just frustrating as a character, I know how it is to have insecurities but she drove me insane! All in all, a great read though and I'm already anxious for the next book in the series!
I'm supposed to share interesting details about myself so that my readers get to know me so here we go in no particular order: I'm an natural redhead even though I haven't seen my real hair color in years, I'm a big fan of tattoos and have a half sleeve on either arm and various other pieces all over the place, I've been in the bar industry since I was in college and it has always offered interesting insight into how men and women interact with each other, I have 3 dogs that are all crazy, I live in Colorado and love the snow, I love music and in all reality wish I could be a rock star not a writer or a bartender but I have zero talent so there is that. I love to write, love to read and all I'm interested in is a good story with interesting characters that make the reader feel something. Thanks for taking the time to check my stuff out…
Connect with Jay:
Facebook
|
Twitter
|
Website
|
Goodreads