Happy Release day Jamie McGuire! One of my all time favorite book boyfriends has managed to wiggle his way deeper into my heart! Hope you all enjoy Travis as much as I did!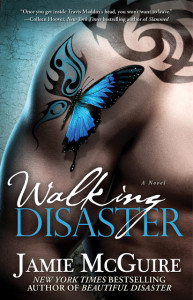 Finally, the highly anticipated follow-up to the New York Times bestseller Beautiful Disaster.
Can you love someone too much?
Travis Maddox learned two things from his mother before she died: Love hard. Fight harder.
In Walking Disaster, the life of Travis is full of fast women, underground gambling, and violence. But just when he thinks he is invincible, Abby Abernathy brings him to his knees.
Every story has two sides. In Beautiful Disaster, Abby had her say. Now it's time to see the story through Travis's eyes.
Review
I have a list of all time favorite book boyfriends and Travis Maddox ranks right up there at the top! I can't even begin to tell you how excited I was to get into Travis's head......I really haven't had the best month but it's amazing what a great book by a great author can do to you. I perked right up when I realized that Travis Maddox was on my kindle....I mean come on, getting in the head of one of my all time favorite bad boys....PRICELESS! 5 Earth-Shattering, Spectacular stars!
Nothing and I mean nothing compares to being inside Travis's head....this beautiful, tattooed, intense, deep man WOW! The book starts of when Travis is just little and witnessing the death of his mother and goes on to include meeting Abby, their bet, developing his relationship with Abby, showing his bond with Shepley, etc....basically follows along the same lines as Beautiful Disaster. This book gives us insight into Travis thoughts and actions and at least gives us some understanding to his actions, especially for those who thought he was over the top with his love for Abby which I never thought he was. It's amazing how much I could relate to Travis....I fell in love with him in Beautiful Disaster and fell in love with him ten time more in Walking Disaster. I felt his emotions as if they were my own...the undying love, the anger, the angst! Walking Disaster just made Beautiful Disaster all the more intense! The prologue was tear jerking, the re-telling of the story was great, the added scenes were amazing, and the epilogue was the closure I need, I'm speechless, it was PHENOMENAL.....it knocked me off my feet! I re-read the epilogue several times and I'm not ashamed to admit that each time I did, I cried through it. It was the closure I needed and I'm so happy with were Travis and Abby's relationship is <3
"At the end of it all, I'm yours."
An amazing series, one of my all time favorites! Unbelievable ending to an amazing, heart-wrenching, beautiful, troubled, unforgettable love story. I can't wait to read more about the Maddox brothers and to see what Jamie McGuire has up her sleeve next! Now someone direct me to the nearest underground fighting ring where I can look for my very own Travis Maddox ;)
*Note: This copy was provided by Netgalley for an honest review. We thank the author and the publisher.
Amazon Buy Link