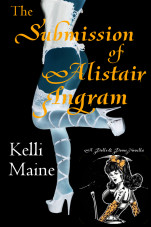 Blurb
Movie star Alistair Ingram strolled into Dolls & Doms private men's club in Las Vegas for his bachelor party and limped out with a torn shirt, red welts covering his chest and a broken engagement splashed all over the pages of every celebrity magazine in the country.
A session with club Dominatrix, Black Betty, will do that to a man.
With Alistair's manager breathing down his neck and Black Betty's abusive ex-husband alerted to where she's been hiding for the past ten years, there's only one thing to do:
Lie.
And get the hell out of Las Vegas.
But the real ruse is on Alistair and Black Betty, because despite both of their best efforts, they've gotten under each other's skin. Can their explicit dance of domination and submission end in anything other than disaster?
THE SUBMISSION OF ALISTAIR INGRAM is the first in a novella series from
www.DollsandDoms.blogspot.com
, where erotic tales from the Dolls & Doms private men's club are told in weekly episodes.
Review

This is the first book I have read by Kelli Maine, I own the Give and Take series but just haven't found the time to read them yet. I was pleasantly surprised to find that I really loved Kelli's writing and I am looking forward to reading more of her books. I didn't put this novella down until I finished it, loved it!

Alistair's bachelor party is held in "Dolls and Doms" a private gentleman's club, Alistair is a "pretty boy", cocky movie star who is used to getting what he wants, when he wants it. When he meets the clubs top dominatrix Black Betty both of their worlds are rocked and turned upside down. They become involved and it's a constant struggle of power, Betty is used to being dominant(has past relationship issues) and Alistair needs control. The question is who is going to give into the other first?

This was a quick, steamy, sexy read with a bit of a love story thrown in. I can't wait to see what is next for Alistair and Black Betty, until then be sure to pick up your copy!


Buy Links
Amazon:
http://www.amazon.com/Submission-Alistair-Ingram-Novella-ebook/dp/B00BEMD8FW
Barnes & Noble:
http://www.barnesandnoble.com/w/the-submission-of-alistair-ingram-kelli-maine/1114501298
Smashwords:
http://www.smashwords.com/books/view/284398
About the Author
Erotic romance author of the Give and Take series. TAKEN and NO TAKE BACKS: A Novella, now available! GIVEN 2013.
Twitter
kellimaine
Website
http://www.kellimaine.blogspot.com
Facebook
http://www.facebook.com/kellimainebooks?fref=ts
Goodreads
http://www.goodreads.com/author/show/6442717.Kelli_Maine
Remaining Tour Schedule
2-25: The Book Enthuiast- review
http://www.thebookenthusiast.net
2-26: Wine Relaxation and My Kindle-
http://drwrnmk.blogspot.com/?m=0
2-26: Little Black Book Blog-
http://littleblackbookbloggers.blogspot.com
2-27: Angie's Dreamy Reads-
http://angiesdreamyreads.blogspot.com/
2-27: Book Crack-
www.bookcrack.com
2-28: Momma's Books-
http://mommasbooks.wordpress.com
2-28: Book Reader Chronicles-
www.bookreaderchronicles.com
2-28: Literary Mania reviews-
http://literarymaniareviews.blogspot.com